Nowadays, people think of going modern with wallpaper while setting up their living rooms, bedrooms, kitchens, dining rooms, toilets, and others.
They create beauty around these spaces and pay more attention to them to keep them looking gorgeous. I love that!
But while they try to make things look marvelous, they tend to pay little attention to the stairway wallpaper.
The stairway takes up a limited part of the house, joining the floor to other parts of the building through a flight of steps, and for this reason, most people often overlook or pay little attention to making it look pleasing.
Some people have yet to learn that beauty and elegance are forming in the stairways of their modern apartments with wallpaper.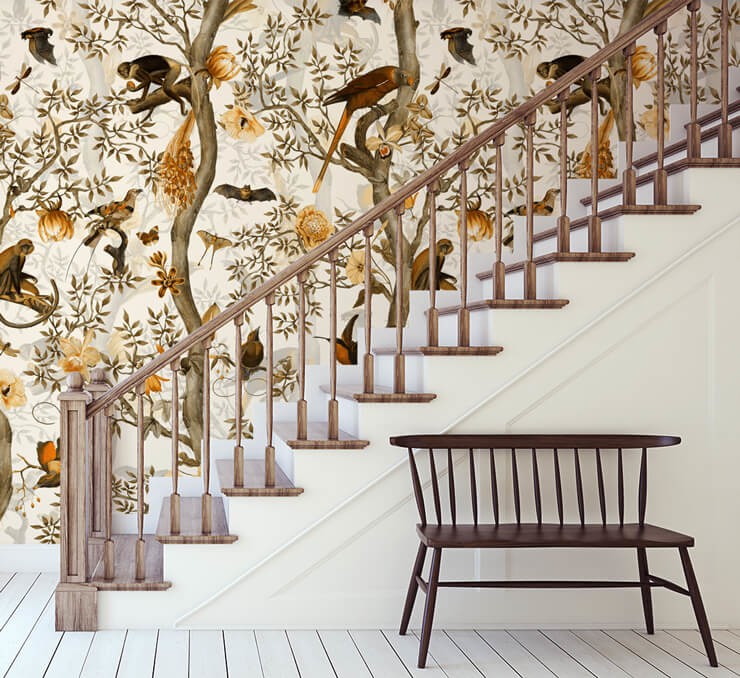 Gone are the days when people preferred bare walls in their buildings. Now, the reverse is the case, especially with the advent of enchanting, colorful, adoring, and textural wallpapers. All thanks to our innovative textile companies!
Decorating every part of your building with stunning Stairway Wallpaper wallpapers speaks volumes about your personality. The stairway, being the first place to be seen by visitors in most cases, is an inviting space to create such a beautiful visual contrast.
After thorough investigation and research, I'll share some unexpected staircase wallpaper ideas you can exploit and try.
Your house deserves some touches of beauty, including your stairs. Look at these staircase decorating ideas to make your home stand out. Just take your time to peruse these ideas while you sip your coffee!
Read More: 9 Tips For Keeping Your Pantry Neat And Tidy
Stunning Stairway Wallpaper Ideas for Every House.
1. Brighten up your stairwell.
2. Dress up the stairwell wall.
3. Select the best flooring option.
4. Provide sufficient lighting
5. Choose a contemporary stair runner.
6. Install stair decoration accessories as needed.
7. Use a modern railing design to decorate.
8. Decorate the Under Stairs
1. BRIGHTEN UP YOUR STAIRWAY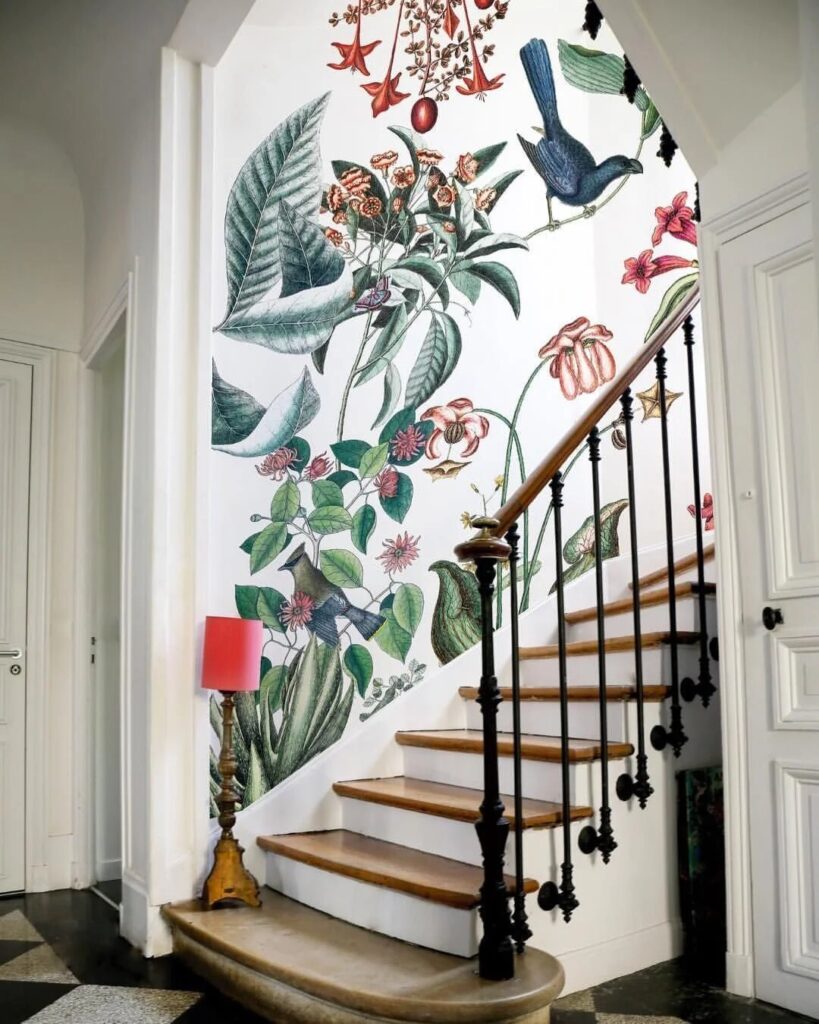 Exciting colors liven up the setting of your stairway. There are ways in which you can make a significant impact with paint on your stairs.
A. Wallpaper: One of the easiest ways to brighten up the color of your stairs with brilliant patterns is through the wallpaper.
Energizing Stairway Wallpaper Design with Subtle Patterns does better than mere painting, and it quickly grabs one's attention as it lightens the visual contrast of the stairway.
B. Paint: Painting can be used to create a variety of appealing patterns and textures in a space. A good choice of color on the stairs enhances the look and mood of your staircase.
You can work with neutral colors to brighten up your stairway area and give it a modern touch, or even use bolder colors to impact your staircase's visual effect significantly. You can also try out a texture that reminds you of nature. It all depends on your choice!
C. Stencils: If you have a particular design in mind, be it in letters, words, or patterns, then go for stencils. Stencils can be applied to any surface, just like paint and wallpaper.
All you need to do is to choose stencils of your favorite color and brighten them up with any other excellent color at the base.
2. DRESS UP THE STAIRWELL WALL
Using the following ideas, you can create a sophisticated look for your stairwells: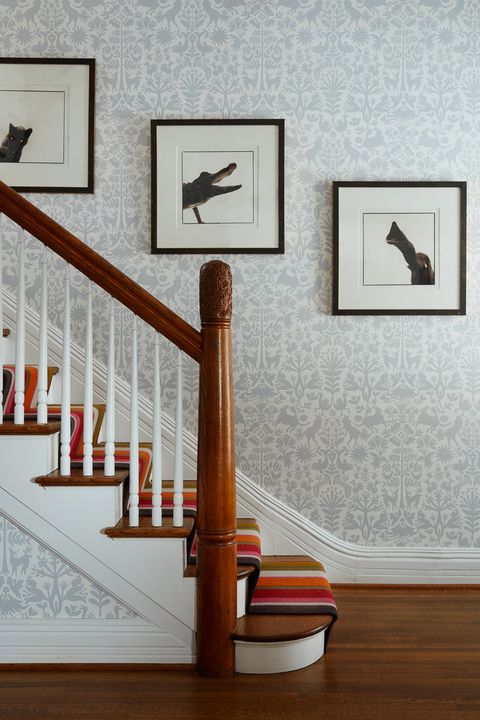 A. Picture: You can create an exciting look on the walls of your stairs with framed pictures. Pictures remind you of beautiful memories and events, such as the family photo during a birthday or picnic, the zebras running when you visited the zoo during summer, the picture of your child during her birthday, and so on. You can also install pictures speaking of some historical event that you don't like to forget. The best height for hanging your picture is 56.5-60 inches above ground level.
B. Framed painting: As you step up or down the stairs, framed artwork creates a stunning effect. You can experiment with various framed pictures on the staircase wall to see how your home comes to life.
Read More: 11 Clever Ways to Give Your Bathroom a Spa-like Standard
3. SELECT THE BEST FLOORING OPTION
The stairs' flooring speaks volumes about your staircase's overall look. There are tons of floor ideas you can explore and opt for depending on your likeness.
A. Wooden Floor: A beautifully crafted, alluring, textured, and polished wooden floor can add to the naturalness and elegance of your stairwells. You can design your own peculiar stairway flooring pattern with wood and decide to paint it in your favorite color. And when you choose to change your home, the wood can be uninstalled and used for other purposes.
B. Tailing: Tiles last longer than wood and are resistant to liquid substances. You can use patterned tiles with multi-color paints to create an exciting and elegant atmosphere in your stairwells.
C. Mix Tape: If you don't like the look of wood or tile on the stairs, the tape is another option. Choose between different patterns and colors to create the design of your choice.
4. Provide sufficient lighting.
The staircase is one crucial home section that shouldn't be left dark at any time. Furthermore, sufficient lighting in this area ensures and enhances the aesthetic effect. While trying to find the best lighting option, you can consider or check out any of the options below.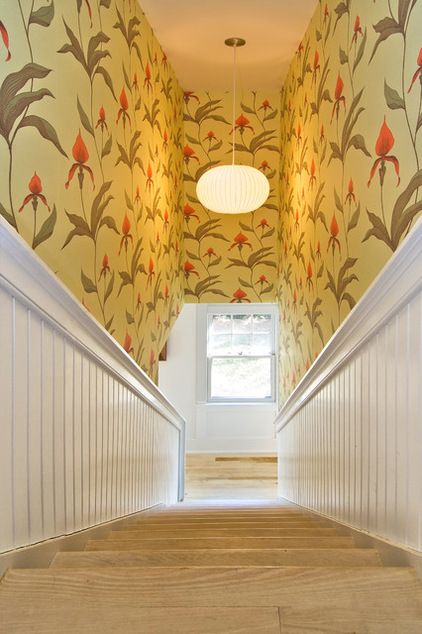 A. Hanging: You can hang the light in the middle of the stairwell to create that illuminating effect. Lighting may be the best option if you're a family with young children who enjoy playing with illuminating objects around the house.
B. Wall light: Ambient light installed alongside the picture frames and paintings hung on the staircase wall not only lights up the space with alluring rays but also creates beauty around the stairwell.
C. Light in the risers: Nothing says "modern," like installing light in the stair riser and tread, brightening your visual contrast as you ascend and descend the stairs.
D. Light the handrail: The railing is another part of your staircase that'll appreciate lighting. Light in this part creates beauty for your stairway.
5. CHOOSE A CONTEMPORARY STAIR RUNNER
We are in the modern world now; everything has to be unique. That's precisely the case with stairs with runners.
Runners make your stairway look more classic and contemporary. You can go for various stairs carpet, ranging from simple patterned runners to stripe-patterned types.
Different textures of stairs runners will suit your home and make it look more classic. While choosing your runner, always consider the size of the stairs you're using it on.
6. INSTALL STAIR DECORATION ACCESSORIES AS NEEDED
Installing some stairs decoration accessories will enrich your stairwell with a classic appearance. You may choose either of the following.
A. Mirror: When it comes to giving a classic look on your staircase with accessories, nothing does this better than a mirror.
B. Stickers: Stickers of animals or numbers on the stairs can help create an exciting stairway appearance, especially for little children. There are vast stickers with different attractive designs that you can choose from it.
C. Anti-Skid tape: Anti-slip tape on the stairs can help avoid accidents like slips or falls. While it serves a crucial function, it can also help visually impaired adults notice the stair level difference.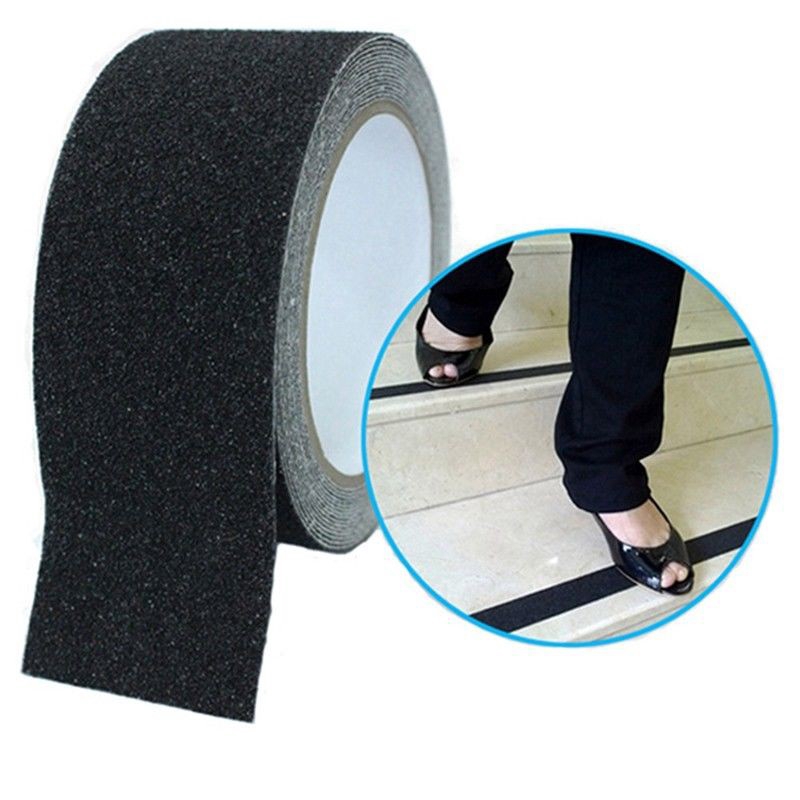 7. USE A MODERN RAILING DESIGN TO DECORATE
The handrail is the part people hold for support while ascending or descending the stairs. It requires some form of rigidness which in turn may be used to create beauty.
If you prefer a sleek railing, glass is the best option. Other forms of fence, such as wooden, concrete, and metal, can also be used for a glossy textured handrail.
8. DECORATE THE UNDER STAIR
Most people consider the under stair a waste. For a creative being, this is one of the best spaces to work drama. You can decide to create a small bookshelf in this place or a comfortable, tiny house for your pets or make it a storage space for your TV unit.
HOW TO APPLY WALLPAPER ON THE STAIRCASE.
By now, you confidently have ideas on making your stairway look fantastic with wallpaper and have probably gotten the wallpaper of your choice to work magic through your flight of steps.
The question you're left with now is how do I apply the wallpaper? This is a straightforward task that requires nothing but carefulness and a pinch of creativity.
After getting the wallpaper, follow the below procedures to have your wallpaper stuck on your stairs.
1. Calculate the Area: You'll first have to measure the size of the stair steps. Measure the width and height of the area to which you'll apply your wallpaper.
Do so a few times to be sure of the size. This will, in turn, give you the answer to how much wallpaper you'll need to give your staircase the fantastic touch it requires.
2. Cover Cracks: Cracks can render your efforts ineffective over time. The wallpaper sticks out within days once there are dents, cracks, and imperfections in the area.
Ensure you cover the crack with mud and sand it down.
3. Clean The Stairs: Clean the area where you'll place the wallpaper.
To clean, you can use reasonably warm water and soap with a damp cloth to thoroughly wipe away dirt and dust on the stairs and allow them to dry before applying the wallpaper.
4. Prime the Surface: Wallpaper adheres better to a freshly primed surface.
The primer improves adhesion and makes it easier to remove the wallpaper at any time you wish to without damaging the wall. After the dust and other remnants have been removed, gently apply the primer and allow it to dry.
5. Apply Adhesive: Some modern Stairway wallpapers peel and stick, while others are not. However, you can still employ the use of adhesive for better results. Use a paint roller to apply a thin glue film to the back of the paper. Ensure that you apply this evenly without poking holes or damaging the wallpaper.
6. Apply the wallpaper carefully and slowly to avoid forming bubbles. Do not rush, and ensure the wallpaper sticks to the surface before moving further.
7. Finishing Touches: Some extra wallpaper may be around the edges. Gently cut them away with a very sharp knife or scissors.
The blunt cutting edge of your knife may cause your wallpaper to wrinkle, disrupting your design's beauty.
Now, you're done. And it's directly shining!
CONCLUSION
At this point, I hope I've left you with enough ideas to decorate your stairs with wallpaper and make your stairway look classic and impressive. No more boring flights of steps. You can now live modernly! See you in my next post. Thank you for reading!