You're in the right place if you're searching for some chic minimalistic plant bedroom decor ideas for your beautiful home. Today, I've brought you ten (10) tips on how you can turn your bedroom into a haven with plants. Yea, cheers!
Your bedroom is one of the unique spaces in your home that deserves an appealing look and a calming scent. It is the place where you relax and think of your next step. It does deserve that luxurious vibe.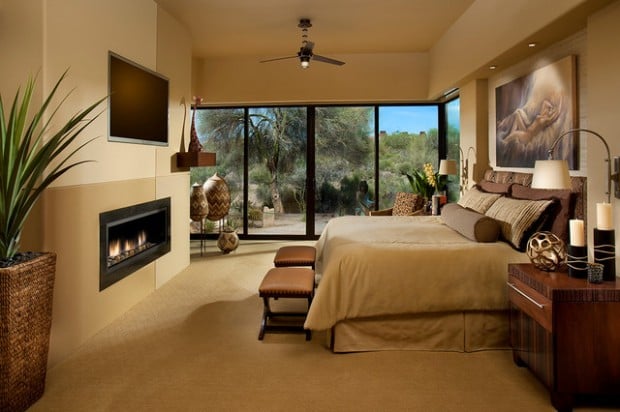 On the other hand, plants are not just green friends mainly for beautiful decor; they are considered a healthy supplement to life in our home. For example, Aloe Vera, Golden Pothos, and Lavender plants are suitable for the bedroom. I love bedrooms with plants!
You may wonder how much it will cost to create or transform your bedroom into a minimalistic modern plant bedroom. The good things is that it doesn't cost you a sea of riches to get your desired expensively looking green bedroom. All you need is to read my post to the end, get ideas, and work magic in your room with your gifted hands. That's all!
Now, let's get started on your minimalistic plant bedroom.
1. Use The Corners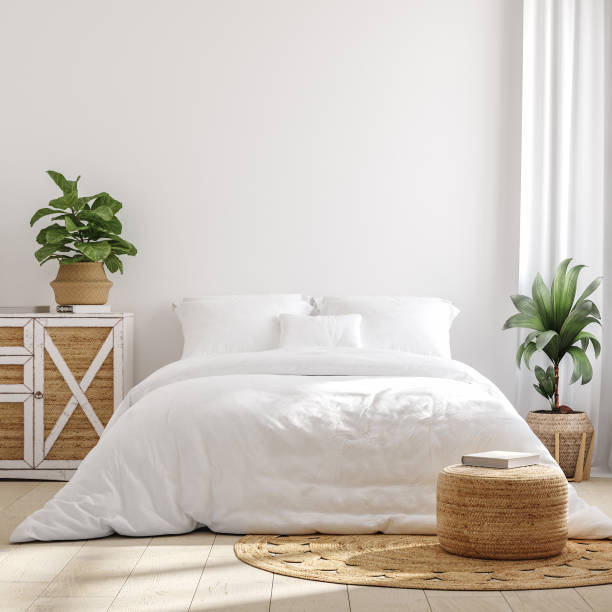 The corners of your bedroom are free spaces where you can install your plant pots.
Purchase various plants in various colors and sizes and place them in the corner of your bedroom to quickly improve the elegance and beauty of the space.
To brighten up the visual vibe, choose plants that match or complement the color of your bedroom.
For example, lovely scents and greenish-colored plants look good in a white bedroom.
You may also add glowing light to liven things up. Ensure you go for beautiful plants.
English ivy, Bonsai, Elephant Ear, Euphorbia Trigona, and cyclamen are plants you shouldn't keep in your room. Some are toxic, while others can introduce pests into your room.
2. Use The Headboard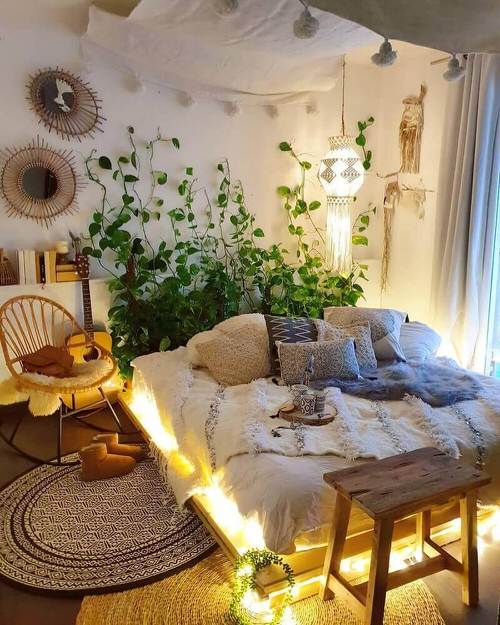 Please do not throw away the headboard when it can turn your room into a gorgeous space. Instead, select a few plants and place them on your headboard if it is large enough to accommodate them.
While you employ this form of plant decor, make sure to be creative with the arrangement of the plant pots so as to maintain the leaves when you go to sleep. You can place the larger plants at the center and accent them with smaller ones or other decorative objects to create beauty around the headboard.
Read more: 11 Clever Ways to Give Your Bathroom a Spa-like Standard
3. Use The Window Ledge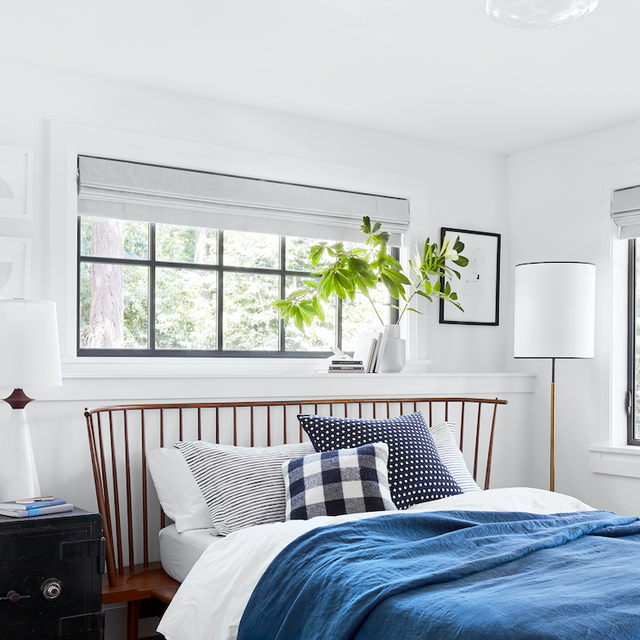 "The window ledge" is that horizontal surface or structure at the bottom of your window. It helps support and holds your window in place. If it is broad and robust enough to carry pots of beautiful plants, utilize it to create a decor.
Plants in this space have enough access to sunlight and grow well within a short time.
They also make your room look modern and natural. Window sills may not be able to withstand a lot of weight. The kind of window bottom should determine how many pots you should place.
4. Line Them Up Horizontally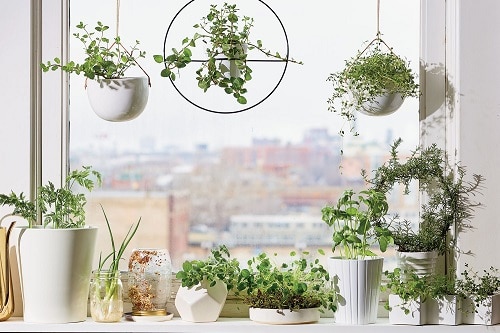 You can create a fabulous look in your plant bedroom by arranging your plant pots horizontally on the floor close to the wall. This is the best if you can afford one or two containers.
The beauty and elegance will come out differently than expected when you have more than three pots of plants. You can use step stools to create levels. Honestly, you'll love what your plant bedroom looks like in the bedroom.
5. Experiment With Shelving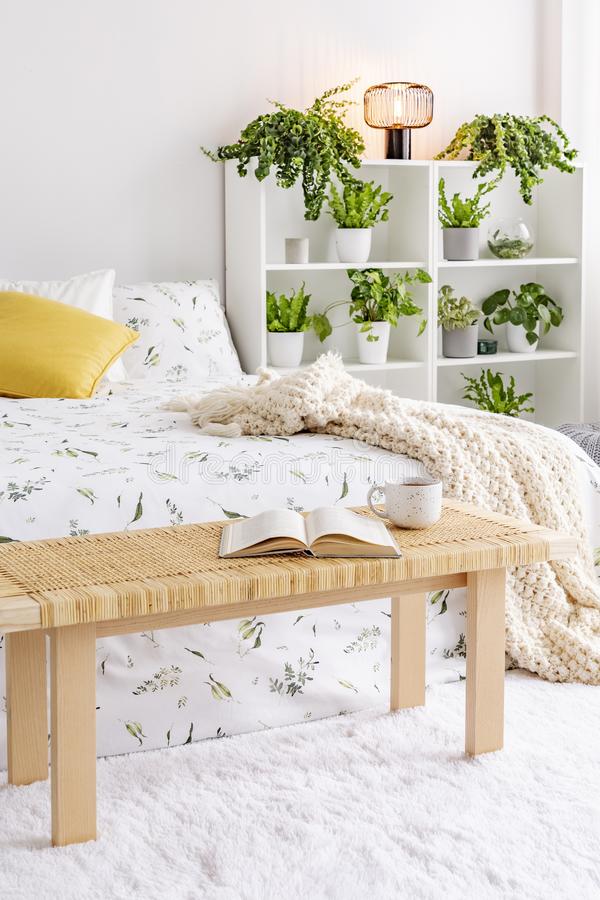 Another fun way of giving your minimalistic plant bedroom a soft, simple, and earthy touch is by shelving your plants.
The shelf you'll create for your green friends should be spacious enough to allow them to smile at the beauty around your room for a long time. Shelving your plants makes your room look modern and feel natural.
Select a few pots of plants that won't crowd your space while sprouting and beautifully arrange them on the shelves.
6. Set On A Side Table
The table in your room holds something close to your view and adds to the beauty of your bedroom. You can also create a decor in this space by placing some plants and decorative accessories.
All you need to do is lift up a planter that matches your bedroom's interior decor and enjoy its fantastic vibe. There is no restriction to the amount of plants you should have in your bedroom. However, ensure you manage and maintain them so your gorgeous bedroom will be open.
7. Hang The Planter
Want to add an exciting look to your minimalistic plant bedroom? Try out hooking up your planter.
You may need to do adequate work, but it's really worth it. Using a solid hook that's strong enough to carry considerable weight, hang your planters from the ceiling of your bedroom with a decorative cord.
You can try plants with an appealing scent that'll make your room smell nice while they rest perfectly on the hook. Nothing else felt more modern than this.
8. Go Modern With A Green Wall
Often, you need to figure out what to do with the empty spaces in your room.
Now, the time for usage has come. You can build your green wall and install it somewhere perfectly in your minimalistic plant bedroom.
The use of plant walls is a trend in homes because it helps to purify the air around the room and regulates and reduces the room's ambient temperature. If you can not afford the effort, it takes to maintain live plants, you can easily opt for a fake plant wall and still get the dynamic and modern vibe you desire.
Read more: Unexpected Stairway Wallpaper Ideas For Every House
9. Choose White Bedding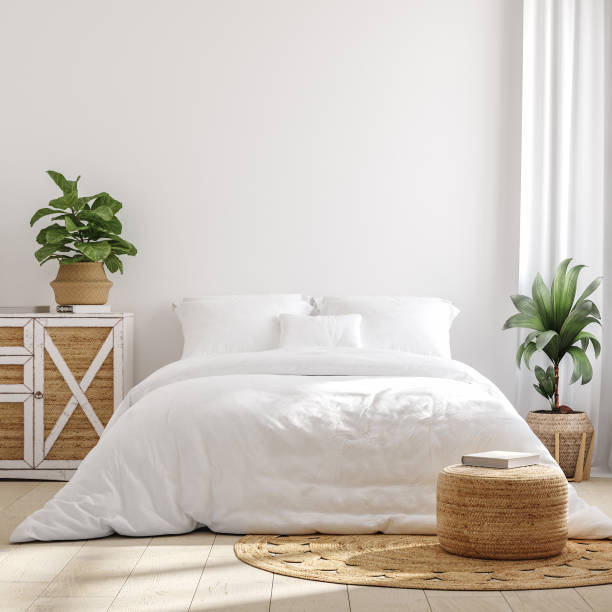 The color white goes well with every green plant. White bedding paired with green friends in your minimalistic plant bedroom brings out your room's luxurious and gorgeous appearance. Other colors might do the same magic, but white does it better.
10. Provide Sufficient Lighting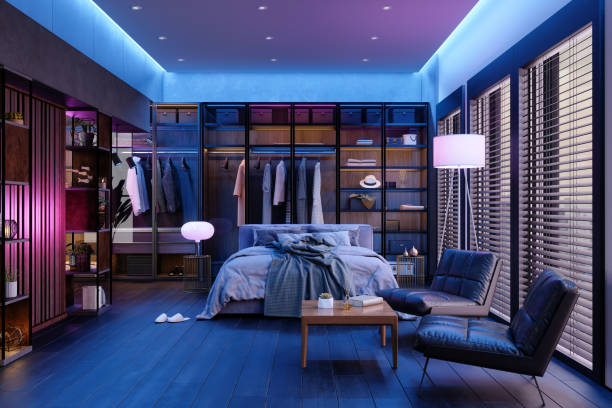 You can only reach the standard minimalistic plant bedroom with adequate light around you. Enough Lighting in your room is almost an accessory on its own. It brings life and simplicity into your green space.
While you install the light, ensure you install it with a light dimmer. With that, you can switch between the kind of mood you want in your plant bedroom.
Conclusion
You have every right to a luxurious lifestyle. Let it start in your bedroom with those minimalistic tips I've shared above. Make sure to read every update from me. Like, comment, and share. Thank you! See you in my next post.