Gardening is not just about planting ornamental plants in your backyard when the weather warms up. Gardening is a perfect way of interacting with our natural world, a way of appreciating the beauty of nature.
Gardening can be dreadful for a newbie or an inexperienced planter in the first place.
Starting from the harmonious arrangement of fresh flowers, vegetables, and delicious fruits in a beautiful way, encompasses a great deal of dexterity in the field of art, while the science of gardening entails the techniques and principles of planting and cultivation of these plants.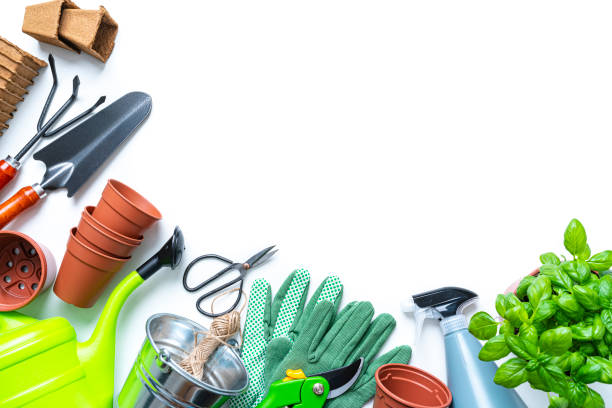 Both of these practices become so easy in the presence of the right garden tools.
As a garden planner, you must know the right tools for successful gardening practice. And coming here is one big step you've taken toward to attaining that.
In this post, I will make you feel the beauty of gardening through different garden tools that experts have submitted to be essential for attaining the best garden practice you have never dreamed of.
BEST INDOOR GARDEN TOOLS
It's important to remember that not all seeds should be started outside, Because seeds only need a little warmth and don't require direct sunlight.
Nursery is the term for this method. Before transferring the plants to the bed for germination, a garden planner must carefully select the appropriate indoor garden tools for the nursery.
The following are the top 20 most useful nursery tools.
1. Indoor Plant Grow Light.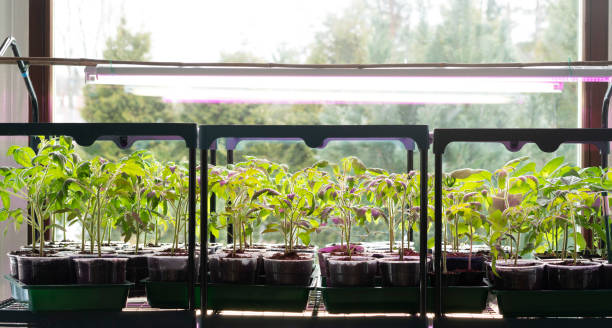 Even though indoor seedlings do not necessarily require direct sunlight, they nevertheless require a source of energy to germinate properly.
Grow light is a type of artificial light that you can use to replace natural light. It is designed to produce light with a spectrum similar to the sun. The intensity of the light is adjusted according to the sprouting seedlings present needs. It comes with a lighting system that is 16 hours and turns off for 8 hours.
One of the essential advantages of grow light is that it increases the growing space available in your home. Plants can be cultivated even in the darkest parts of your home.
2. Indoor Peat Pot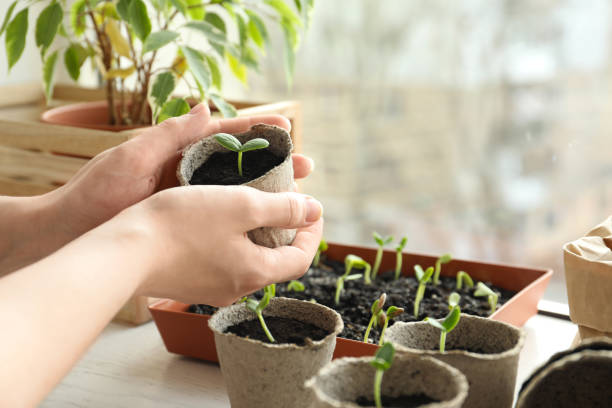 Peat pots are biodegradable pots that are created from organic peat moss that has been blended with wood fibers and crushed.
Every gardener needs a pea pot for indoor plants.
Seedlings should be started in peat pots to be readily transferred to the field and established without inflicting root stress.
They maintain soil moisture and, when properly managed, can help you maximize your growing space and plant as many plants as feasible.
Because of its porous nature, the ceramic kind can help regulate overfilled water, unlike the plastic ones, which are easier to clean.
3. Plant Trays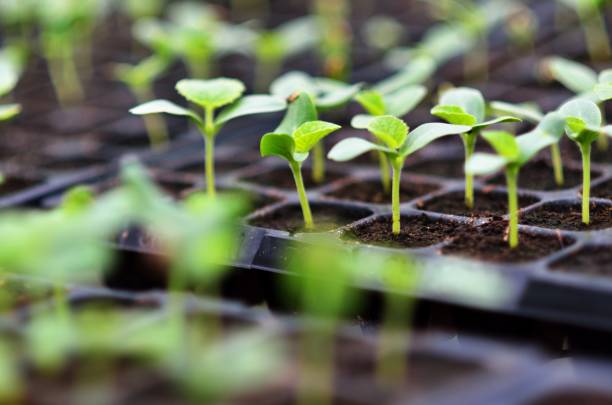 You can use plant trays to protect the surface on which planting pots are placed.
Trays are included, with some peat pots. If your recently purchased lovely plant pots do not include trays, you may easily purchase one to keep your growing space clean after your seedlings have been transplanted to the field for full germination.
4. Heat Mat
Warmth is required for the healthy germination of all plants.
A heat mat is a wonderful option for indoor seedlings that don't get enough heat from the sun. They're designed to send off heat to the plant, signaling that it's time for the seed to germinate.
The Heat Mat emit the temperature which is controlled using the built-in thermostat. They are incredibly flexible and do not hold water.
In other words, with a heat mat, you have complete control over your plant at all times of the day and night.
5. Label Maker
If you are a gardener with a hectic schedule, arranging your garden is no longer a problem.
Yes, not anymore!
Label makers make it easy to keep track of all the information about the seeds you sow in the pot. With the help of a label maker, you can keep track of other details, like how much heat and water you gave your seedlings.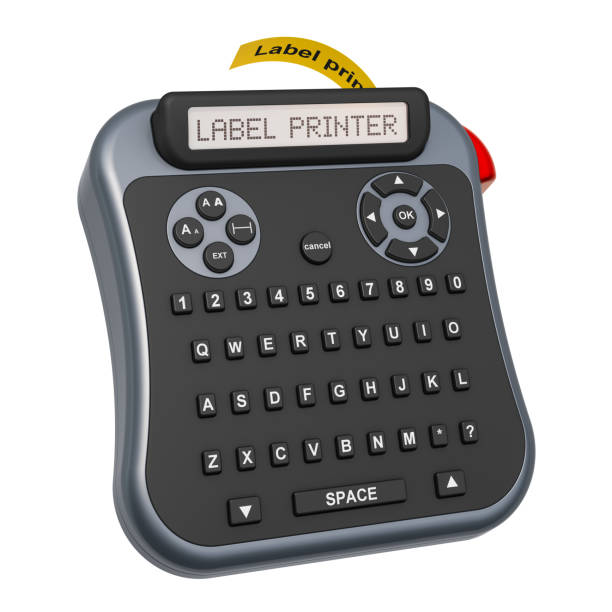 This small personal labeler weighs 8 ounces but offers a lot of functionality. In addition to two-line printing, you receive 54 font options. With an 8-character LCD and a QWERTY keyboard, it's simple to operate.
6. Plant Stand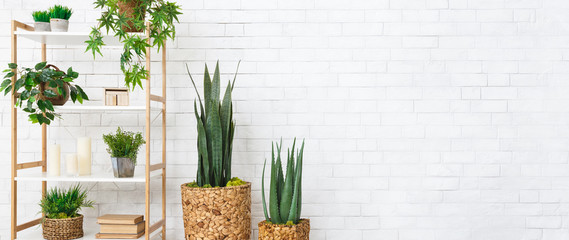 A plant stand is another way to ensure that your plants are properly organized and appealing while maximizing growing space.
An indoor plant stand creates a beautiful arrangement for your indoor plant. This can help the interior of your house look stunning!
The stand can hold as many plants as possible, depending on the number of shelves. Some shelves can hold up to three or more plants. Therefore, a plant stand with ten shelves can hold about 30 pots of plants in a relatively small space.
7. Moisture Meter
The moisture meter is one garden item that you must have on hand for your indoor plants.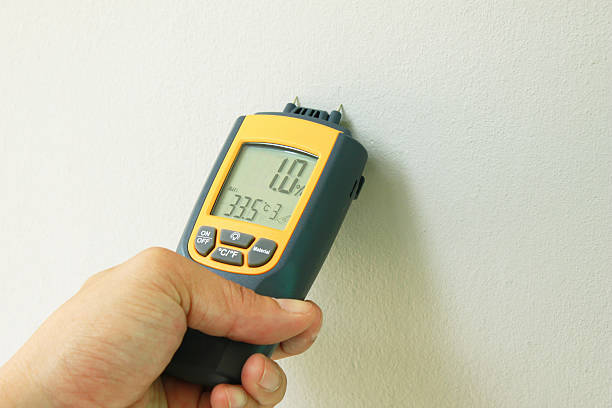 The soil in which you spread your seed must be neither too dry nor too wet. you need to maintain a delicate balance to keep the seed healthy.
A moisture meter can be used to check this equilibrium accurately. It's made to measure the water content of the soil as recorded by the gauge once it's dug into your plant's soil. It can also be used as a tool in the outdoors.
Read More: How to Clean and Sharpen Garden Tools | Step by Step
8. Indoor Plant Trellis
To avoid drooping over, some plants must be kept straight while growing. It may be difficult to keep a hanging plant in a straight position manually, especially for a gardener with a busy schedule. As a result, the best alternative for you is to plant a trellis.
It does not necessitate any level of expertise before use. Bury the rod in the soil around the plant you want to maintain straight. It may also be removed once the plant has taken the place you want it to.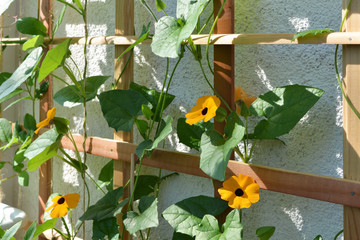 BEST OUTDOOR GARDEN TOOLS
Having the correct tools for your garden is an important part of having a successful gardening adventure.
After germination in the nursery, your plant must be moved to the field. You'll also need some more tools to help you with the transplanting and maintenance of your plant until it reaches full growth.
If you're reading this, you may rest assured that you're the best garden planner because I'll gently walk you through all of the outdoor tools you'll need for your planting.
Read this: Best tools for home cleaning according to the expert.
9. Hand Trowel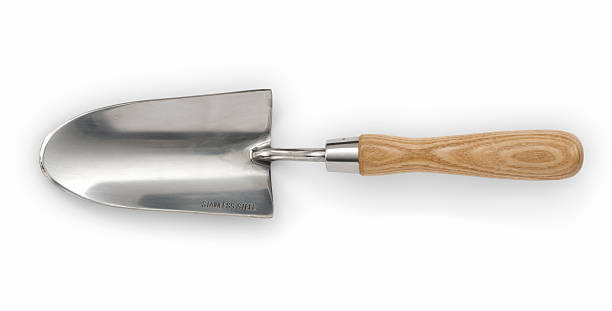 Moving your soil to the field is important, but it's also risky. Any transplanting error in the field will kill your plant's root system, which you've been nurturing for decades.
A hand trowel is one of the essential gardening tools.
A hand trowel is a gardening tool for transplanting bedding plants and shrubs, moving tiny amounts of soil, digging small holes, and weeding.
They're made of stainless steel, are lightweight, and won't bend when you use them. They are rust-resistant and long-lasting. A planting towel, Old Dutch style, is another type of trowel, which is Monty Don's favorite tool. A broad, flat head with sharp sides and a pointy end characterizes the trowel. Another Monty Don's favorite tool is the secateurs.
10. Secateurs (Pruning shears)
Pruning shears are another important gardening tool to master. When you take this equipment from your gardening kit, gardening will become more difficult.
Pruners are used to chop off thick stems, harvest fragile flowers, and cut through delicate branches. They have an aluminum handle and hardened steel blades, making them long-lasting.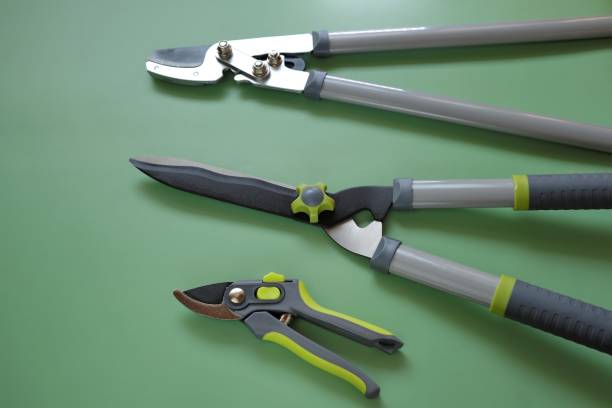 Wrist pain when gardening can be reduced, according to experts, by using hand pruners. They're designed to fit nicely in your palm, and their blades stay sharp for a long time.
Read More: Top 15 Flowering Vegetables You Don't Know
11. Gloves
Your hand is one of the most vital gardening tools.
Because your hands do most of the labor in your garden, they must be well protected.
A good pair of gloves can protect your hand from thorns and discomfort. It aids in the cooling and comfort of your hand.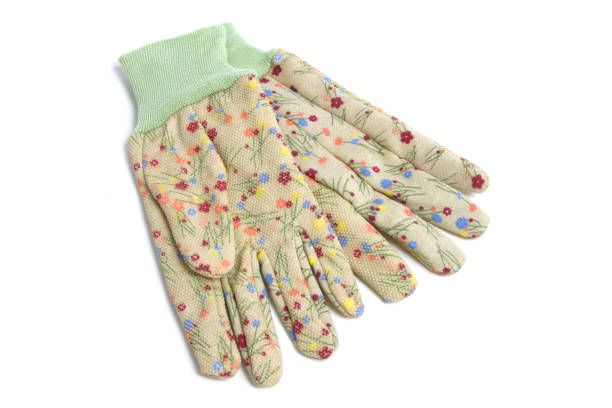 In other words, if you don't use gloves to protect your hands, gardening can be uncomfortable. A pair of gloves can preserve your hands from the annoyance of harvesting.
As a result, anytime you work in your lovely garden, it is highly recommended that you wear breathable gloves. Gardening is a pleasurable pastime that should not be neglected.
12. Hoe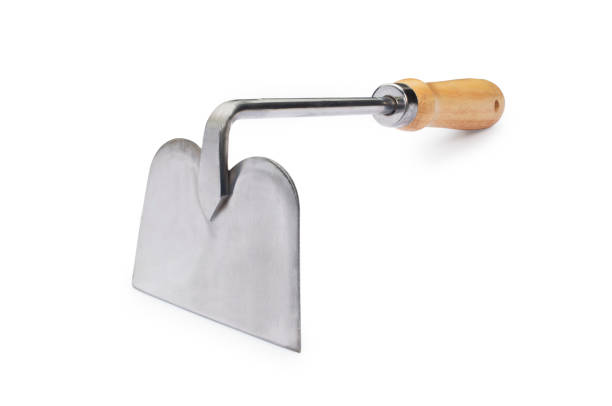 Hoe comes in a variety of shapes and sizes. Which sort you have to work with will be determined by your garden job.
A vegetable gardener's hoe is not the same as a perennial gardener. A large and sturdy hoe will be used for the formal, while a thinner hoe will be required.
Hoes are used to shaping soil, remove undesired vegetation, aerate the soil, and remove old roots and crop leftovers from the soil. Some root crops, such as cassava, are also harvested with them. Hoe is one of the best tools for weeding.
13. Hand Fork
Without a hand fork, your garden tools are incomplete.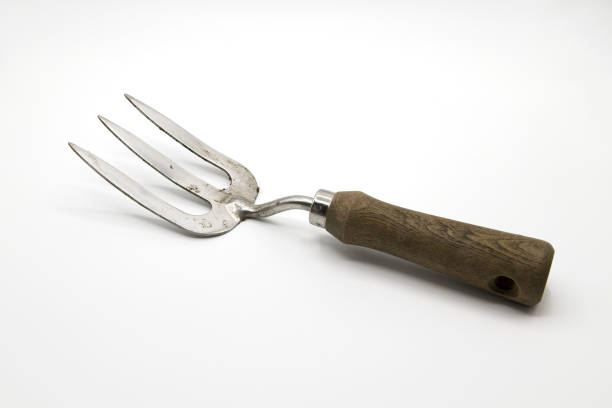 Some plants may not have full access to nutrients, and compost must be applied in these circumstances.
This isn't necessary to use your hands; using a hand fork is the right method.
You may turn the soil in your garden. A hard fork can dig deeper than a spade into the packed dirt. They can also be used to dig up roots and weed out undesired plants.
14. Spade
Turning the soil is one of the most common jobs for a spade.
A spade and a shovel are almost the same. A spade is a digging implement that consists of a long handle and a blade that is often curved and more pointed than a shovel.
Cutting through the stubborn, matted roots of sod with a sharpened garden shovel is extremely effective. It's simple to get underneath the sod with its straight blade and release it from the soil so it may be readily removed.
Gardening kits are incomplete without a spade. A shovel and a spade are other versatile gardening tools, as they can be used for digging, turning, and moving soil, removing thick roots, and cutting off branches.
They are made of stainless steel and are rust-proof, making them able to serve the gardener for a very long time.
15. shovel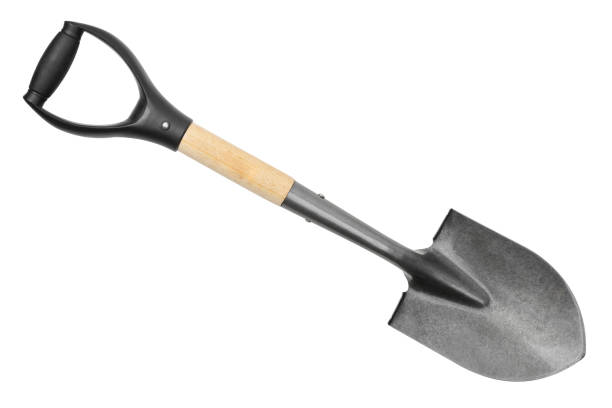 The shovel is a simple garden tool that resembles a spade but has a long wooden handle and a hollow and broad blade that is rectangular.
A shovel's tasks are nearly identical to those of a spade.
Well, what exactly is the distinction between a shovel and a spade? A spade has a shorter, flat blade, but a shovel's blade is longer, angled, and folded into a scoop. Shovels are preferable for scooping and removing loose materials as well as extracting, breaking apart, and transporting topsoil.
16. Hand Rake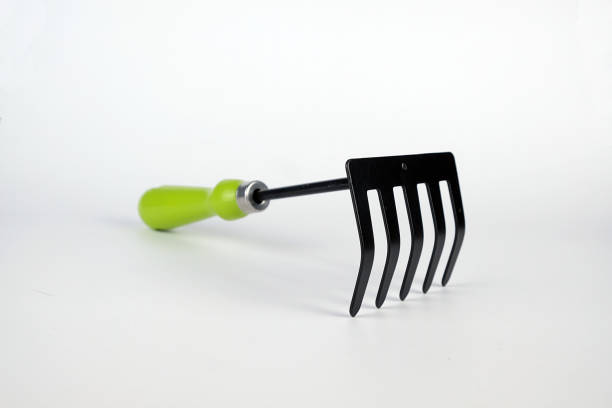 An untidy planting environment could introduce pests and diseases to your seedlings, which you don't want.
One of your most important responsibilities is to keep your garden clean. A well-kept garden ensures a successful gardening experience.
In gardening, a hand rake is used to level and remove dead grass from a garden. They can also help loosen the soil in your garden.
17. Rain Gauge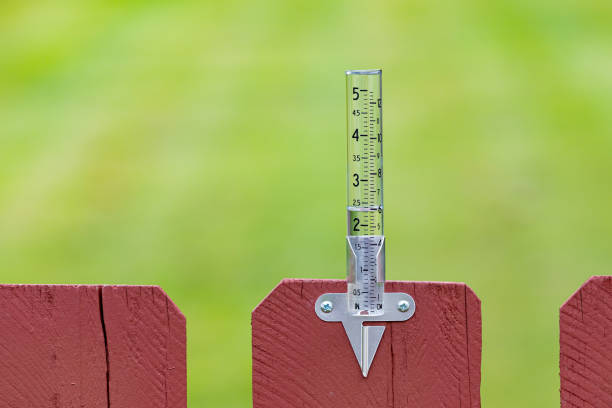 Too much water in your garden can cause trauma to the roots of your plants.
Garden irrigation can be regulated with the help of a garden rain gauge, resulting in healthier plants and lawns. A rain gauge can help to prevent drought-stressed plants or, on the other hand, overwatered areas, which can cause a variety of problems.
18. Garden Knife
A garden knife is one most versatile gardening tools. It is used for weeding, transplanting, cutting sod, and dividing plants; it's a must-have tool.
A ruler carved into the steel of some garden knives is handy for measuring depths while planting bulbs or seeds. Drawing lines into the dirt for planting gauges is easy with the blade's tip.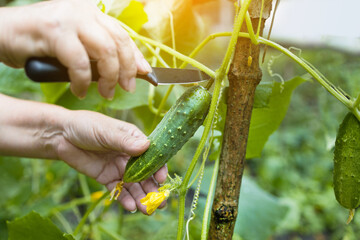 You can also use the knife to help you mark rows. Wrap a line around the knife and bury it in the soil, then pull it to the desired location. It's ideal for getting weeds out of tight spots such as between stones.
When loosening up root-bound plants or separating perennials, the serrated blade is essential for cutting through roots.
19. Garden Kneeler
A garden kneeler may be the ideal option if getting down on the ground to weed, harvest fruit, or execute other gardening duties is difficult.
What is the purpose of a garden kneeler?
It aids in the body's descent to the earth and provides a cushioned landing for your knees. It helps you minimize knee pains due to long working hours in your garden.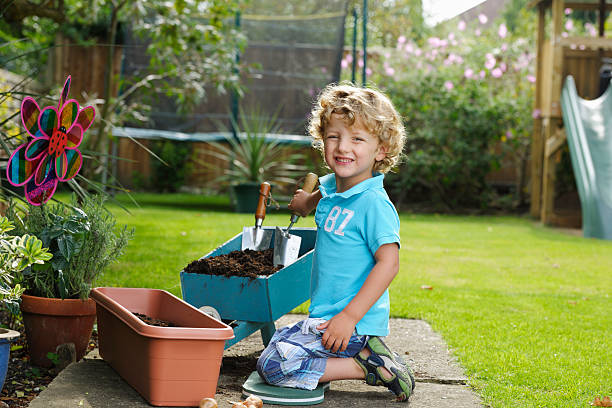 20. Wheelbarrow
A garden wheelbarrow is essential for many uses in a garden.
Every gardener needs a wheelbarrow to pull soil, move waste materials, transport fertilizer, haul garden tools and move baskets of harvested fruits.
It's also utilized in fertilizer and concrete mixing.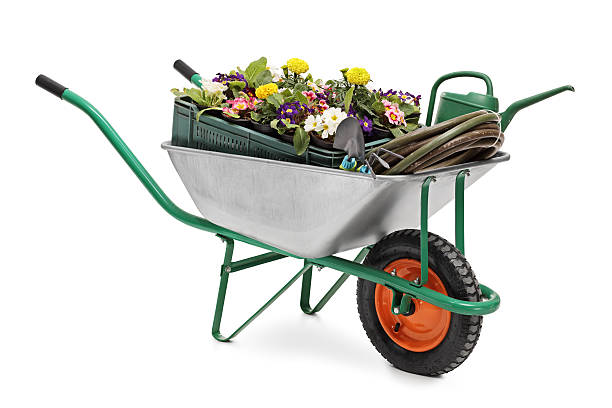 Conclusion
Gardening is a fascinating hobby that anyone may enjoy, regardless of gender or social status. It becomes an amazing experience when you have the correct tools.
The flawless gardening tools not only made the cultivation and growing processes easier, but they also help you to preserve nature and safeguard your garden throughout the process.
In case I have missed something out from the list, be kind free to list it out in your comment.
FAQs
What thing does the gardener need?
Every gardener needs a hoe for clearing, preparing, and shaping soil; a wheelbarrow to pull soil, garden tools, and harvested fruits; and breathable gloves for protecting their hands.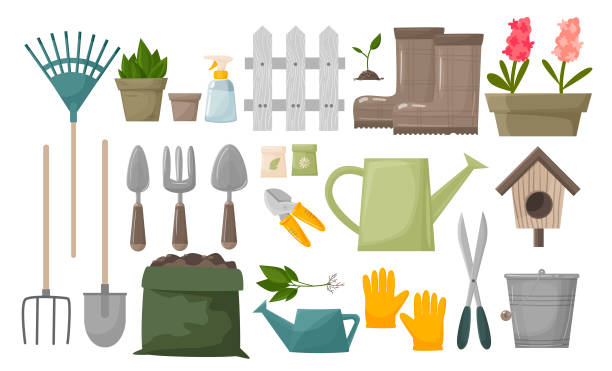 Top 20 Garden Tools for Every Chore
Indoor Plant Grow Light
Indoor Peat Pot
Plant Trays
Heat Mat
Label Maker
Plant Stand
Moisture Meter
Indoor Plant Trellis
Hand Trowel
Secateurs (Pruning shears)
Gloves
Hoe
Hand Fork
Spade
Shovel
Hand Rake
Rain Gauge
Garden Knife
Garden Kneeler
Wheelbarrow
Image Credit: istockphoto
---